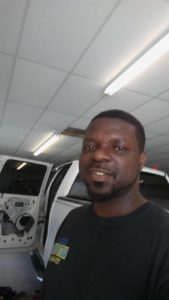 Irky loves a challenge. In his own words: "It's safe to say that I love what I do. Since coming to work for Discount Auto Tunes, I'm putting more of my skills to the test. Here we do more than just car stereo and that's what I love about this place – there's always something new and exciting."
As it turns out, Irky did something new and exciting recently during Hurricane Hermine. A quick look at his Facebook page reveals that he helped out a neighbor in need, whose tree had fallen and dislodged the electric meter on the side of his home. Since the power company claims no responsibility for the meter, Irky sprung into action and helped fix the problem before the big winds and rain hit!
This is why we think he's a keeper!
Here's one of Irky's installs: